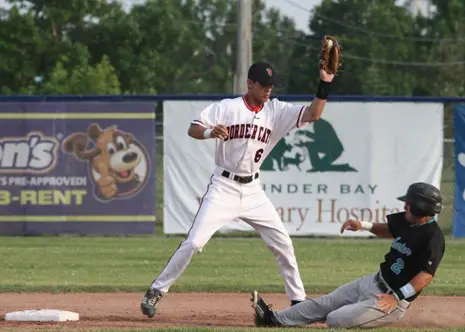 ROCHESTER, Minn. (July 2, 2012) – Monday brought a First-Half South Division Champion for the 2012 season. The La Crosse Loggers defeated the Green Bay Bullfrogs to clinch a spot in the playoffs for the third time in franchise history.
Rochester 3, Thunder Bay 2
The Honkers were led by the starting pitching effort of Jared Miller (Vanderbilt). Miller threw seven innings and allowed just one run while striking out eight Border Cats. Thunder Bay will host Rochester on Tuesday at 7:05 p.m. ET.
Duluth 14, St. Cloud 4 (Game 1, 7 innings)
The Huskies were led by the bat of Luke Campbell (New Mexico). Campbell was 4-for-5 at the dish with three RBI and three runs scored for Duluth. All four of his hits were doubles, bringing him to 12 on the season.
Duluth 7, St. Cloud 6 (Game 2, 8 innings)
Brian Hansen (St. Cloud State) drove in the game-winning run in the bottom of the eighth on a walk-off single. The Rox will host the Huskies again on Tuesday at 7:05 p.m.
Waterloo 2, Mankato 5
Zach Hall (Parkland) threw 6.2 innings and struck out eight batters. He held the Bucks to just two runs and picked up his fourth win of the season. The MoonDogs will host the Bucks again on Tuesday with the first pitch scheduled for 7:05 p.m.
Wisconsin 1, Lakeshore 8
Bre Kimbell (Louisiana Tech) was 3-for-5 at the plate for the Chinooks with three RBI and two runs scored. The Woodchucks will host the Green Bay Bullfrogs at 6:35 p.m. on Tuesday. The Chinooks will travel to Eau Claire, Wis. to face the Express at 6:35 p.m.
Wisconsin Rapids 6, Battle Creek 7
In the bottom of the ninth with the game tied at six, Battle Creek's Colin Willis (Purdue University North Central) put the ball in play. After an error by the second baseman, Jeremy Shay (Bowling Green) would come across to score from third. The Bombers will host the La Crosse Loggers at 7:05 p.m. ET on Tuesday while the Rafters will host the Mallards at 7:05 p.m.
Willmar 4, Alexandria 5
Ben Moore (Alabama) hit an RBI-single to center field in the bottom of the eighth for the eventual game-winning run. The Beetles and Stingers will square off again on Tuesday at 7:05 p.m.
Green Bay 6, La Crosse 11
The Loggers clinched the First-Half South Division Championship and a 2012 playoff berth. They were led by the combined effort of Bobby Juan (Minnesota) and Matt Chapman (Cal State Fullerton). The two went for a combined 4-for-6 with four RBI and four runs scored.