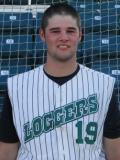 MEQUON, Wis. (July 5, 2012) – La Crosse Loggers starting pitcher Scott Schultz (Oregon State) earned the honor of Northwoods League Pitcher of the Night for Thursday, July 5.
Schultz threw a complete-game shutout against the Chinooks. He allowed no runs, scattered eight hits, walked none and struck out six batters. He moves to 2-1 on the season with an 1.00 ERA.
The Loggers won the game 7-0. The Loggers will take on the Chinooks again on Friday at 7:05 p.m.