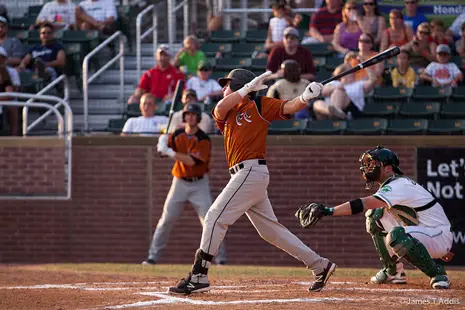 ROCHESTER, Minn. (July 7, 2012) – Close games were everywhere around the league on Saturday as all games were decided by two runs or less.
Waterloo 10, Mankato 9
Kevin Kaczmarski (Evansville) hit an RBI double in the top of the tenth to give the Bucks the lead and eventual win. Mankato will host Waterloo on Sunday beginning at 6:05 p.m.
Willmar 5, Rochester 7
Trevor Podratz (Hawaii) picked up his eighth home run of the season while helping Rochester to Saturday's victory. The Honkers will host the Stingers at 1:05 p.m. on Sunday.
Wisconsin Rapids 5, Green Bay 3
Josh Cyr (North Alabama) went 2-for-4 with three RBI and a run scored to help the Rafters in their win. These two teams have Sunday off.
Alexandria 4, Thunder Bay 2
The Beetles were led by Ben Moore (Alabama) who was 2-for-5 at the plate with three RBI and one run scored. He also picked up his sixth home run of the year. The Border Cats will host the Beetles again on Sunday at 5:05 p.m. ET.
La Crosse 1, Lakeshore 3
Nick Soldano (North Park) led the Lakeshore Chinooks, throwing 6.1 innings, allowing no earned runs and striking out three. La Crosse will host the Battle Creek Bombers on Sunday at 5:05 p.m. while the Chinooks have Sunday off.
Eau Claire 3, Madison 5
Matt LaMothe (Georgia College and State) threw six innings, allowing just one run and striking out five for the Mallards. He would get the no-decision. Both teams have Sunday off.
St. Cloud 4 Duluth 3 (Game 1, 7 innings)
Jamie Simpson (Eastern Michigan) was 2-for-3 at the plate for the Rox with two RBI. The Rox took game one 4-3.
St. Cloud 3, Duluth 4 (Game 2, 8 innings)
James Ramsay (South Florida) hit a walk-off single in the bottom of the eighth to score Paul Karmeris (North Florida) and give the Huskies the 4-3 win. These two teams meet again on Sunday at 1:05 p.m.
Battle Creek 2, Wisconsin 4
Jake Peter (Creighton) tallied his first home run of the season as he went 2-for-4 at the dish with two RBI and a run scored for the Woodchucks. The Woodchucks have Sunday off.