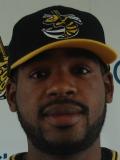 ROCHESTER, Minn. (July 8, 2012) – Willmar Stingers designated hitter Corben Green (Louisiana-Monroe) earned Northwoods League Player of the Night for Sunday, July 8.
Green was 3-for-5 with three RBI and three runs scored. He hit his fifth home run of the season and his fourth in the past four days. Green is now hitting .343 and has a 15-game hitting streak, which is the second longest in the Northwoods League this season.
The Stingers won the game 16-9. Rochester will host Willmar on Monday beginning at 7:05 p.m.