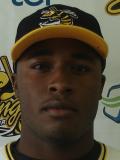 ROCHESTER, Minn. (July 9, 2012) – Willmar Stingers designated hitter Kenny Roberts (Alabama) earned Northwoods League Player of the Night for Monday, July 9.
Roberts was 2-for-5 at the plate with six RBI and two runs scored for the Stingers. He picked up his seventh home run of the season when he hit a grand slam to left field in the top of the second. He also had a two-run triple in the top of the first inning.
The Stingers won the game 21-11. Willmar will travel to St. Cloud for a 7:05 p.m. start on Tuesday.