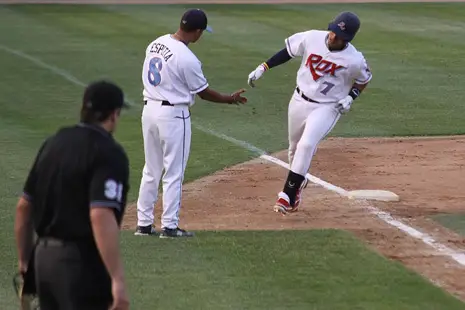 ROCHESTER, Minn. (July 10, 2012) – Corben Green (Louisiana-Monroe) extended his hitting streak to 16 games and the Rox exploded for 18 runs in the midst of a lot of Tuesday action around the NWL.
Alexandria 8, Duluth 6
Ben Moore (Alabama) was 3-for-5 at the plate with four RBI, two runs scored and his seventh home run of the season for the Beetles. The Beetles will host Duluth on Wednesday at 7:05 p.m.
Rochester 5, Mankato 6
Scoring five runs in the first inning and one in the second would prove to be enough for the MoonDogs as those six runs would hold up for the victory. The Honkers will host the MoonDogs on Wednesday for a 7:05 p.m. start.
Thunder Bay 10, Waterloo 6
The Border Cats were led by Omar Cotto (USC) who was 3-for-5 with four RBI and three stolen bases. He hit a go-ahead grand slam in the top of the sixth that put Thunder Bay up for good. The Bucks will host the Border Cats again on Wednesday at 6:35 p.m.
Willmar 5, St. Cloud 18
The Rox scattered 18 runs over eight innings to give Zach Hirsch (Nebraska) his third win of the season. The Stingers will host the Rox on Wednesday at 7:05 p.m.
Wisconsin Rapids 4, Eau Claire 7
Devin Moore (Indiana State) picked up his second win of the season as he threw seven innings, had no earned runs and struck out five. The Express will host the Woodchucks on Wednesday at 6:35 p.m. The Rafters will host the Loggers at 7:05 p.m. Wednesday.
Lakeshore 0, Wisconsin 1
Wisconsin was led by the starting effort of Jake Peter (Creighton) who threw five shutout innings and struck out five batters. The Chinooks will host the Bullfrogs at 6:35 p.m. on Wednesday.
Madison 0, Green Bay 4
Jeff Zimmerman (Northern Illinois) drove in all three runs on a home run for the Mallards as he went 1-for-3 with three RBI. The home run was his sixth of the season. The Mallards will be hosted by Battle Creek on Wednesday at 7:05 p.m. ET.