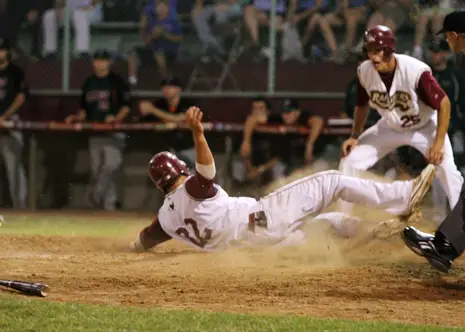 ROCHESTER, Minn. (July 14, 2012) – Saturday brought plenty of close action around the league and a member of the Willmar Stingers continued to stay fierce at the plate.
Alexandria 4, Duluth 2
Scott Sanderson (St. Cloud State) threw six innings and allowed just one run while striking out five batters for Alexandria. The Beetles will travel to Rochester on Sunday for a 1:05 p.m. start while the Huskies will host the Border Cats of Thunder Bay at 5:05 p.m.
Mankato 2, Willmar 7
Kenny Roberts (Alabama) continued to have great season as he went 2-for-3 with two home runs and four RBI to lead the Stingers. Roberts now sits at 11 home runs and 33 RBI on the season. His 11 home runs now leads the NWL. The Stingers will host the Waterloo Bucks on Sunday at 6:05 p.m. The MoonDogs will host the St. Cloud Rox at 6:05 p.m.
Thunder Bay 7, Waterloo 8 (11 innings)
Kevin Kaczmarski (Evansville) was 2-for-5 for the Bucks with three RBI and a run scored. He would also recored his sixth home run of the season.
St. Cloud 6, Rochester 4
After being suspended on Friday due to weather, the Rox came back on Saturday with six runs to finish game one with a 6-4 win over the Honkers.
St. Cloud 2, Rochester 3 (7 innings)
Ben Lahn's (Lamar CC) two-run home run in the bottom of the second would be the difference as he put the Honkers ahead 3-2 with his sixth jack of the season.
La Crosse 7, Wisconsin 8
The Woodchucks were led by starting pitcher J.D. Davis (Cal State Fullerton) who threw seven shutout innings and struck out five batters. He also would walk none as he picked up his fourth win of the season. The Woodchucks will host the Loggers on Sunday for a 5:05 p.m. start.
Wisconsin Rapids 5, Madison 13
Jeff Zimmerman (Northern Illinois) was 3-for-5 at the plate with four RBI and two runs scored to lead the Mallards to the big win. The Rafters will host the Mallards on Sunday at 1:05 p.m.
Eau Claire 6, Lakeshore 3
Alex Real (New Mexico) was 2-for-4 with two RBI and a run scored to help the Woodchucks to the 6-3 win. These two teams face off again on Sunday at 5:05 p.m.
Green Bay 2, Battle Creek 7
The Bombers were led by Daniel Rockett (Texas-San Antonio) who went 2-for-4 with two RBI and two runs scored. He also picked up his fifth home run of the season.