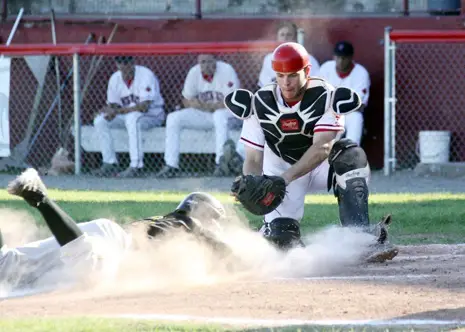 ROCHESTER, Minn. (July 21, 2012) – Things stayed heated at the top of the divisions, as the MoonDogs beat the Huskies to get within two and half games of first place. The Woodchucks improved to 14-2 in the second half with the Mallards following closely behind.
Mankato 9, Duluth 7
Chris Munoz (Oklahoma City) went 4-for-5 with two RBI to assist the MoonDogs in their 9-7 win to slow down the Huskies. Duluth will host Mankato again on Sunday for a 5:05 p.m. start.
Waterloo 13, Alexandria 8
Dan Sheppard (Iowa) went 3-for-5 with four RBI and two runs scored for the Bucks, including two doubles to give him nine on the season. The Beetles will host the Bucks again on Sunday at 3:05 p.m.
Willmar 2, Thunder Bay 5
Sean Becker (Cal State-East Bay) threw eight innings and allowed just two runs and struck out four to earn the win. The Border Cats will host the Stingers on Sunday for a 5:05 p.m. ET start.
Rochester 2, St. Cloud 3
Billy Soule (Minnesota) threw eight innings and allowed just one earned run and struck out six batters. The Rox will host the Honkers on Sunday for a 1:05 p.m. start.
Madison 8, Battle Creek 3
Danny Sullivan (Madison College) threw three relief innings and struck out nine batters and allowed no hits. The Bombers will host the Mallards on Sunday at 5:05 p.m. ET.
Wisconsin Rapids 2, La Crosse 5
Jesse Holiday (Southern University) threw 5.1 innings and allowed two runs on three hits to earn his second win of the season for the Loggers. The Loggers will host the Rafters again on Sunday for a 5:05 p.m. start.
Eau Claire 3, Wisconsin 5
Jack Fischer (Wake Forest) earned his fifth win of the season as he threw seven innings and had no earned runs and struck out five batters. The Express will host the Woodchucks on Sunday for a 6:05 p.m. start.
Lakeshore 2, Green Bay 4
Billy Moon (Gonzaga) was 2-for-5 with two RBI and a run scored as he also hit his second home run of the season. The Chinooks will host the Bullfrogs on Sunday for a 5:05 p.m. start.