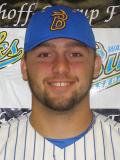 ROCHESTER, Minn. (July 27, 2012) – Waterloo Bucks designated hitter Jordan Adams (Central Michigan) earned Northwoods League Player of the Night for Friday, July 27.
Adams was 3-for-6 at the dish for the Bucks in their high scoring affair with the Honkers. He also had six RBI and two runs scored and connected for his eighth and ninth home runs of the season.
The Bucks won the game 17-8. The Alexandria Beetles will host the Bucks on Saturday for a 7:05 p.m. start.