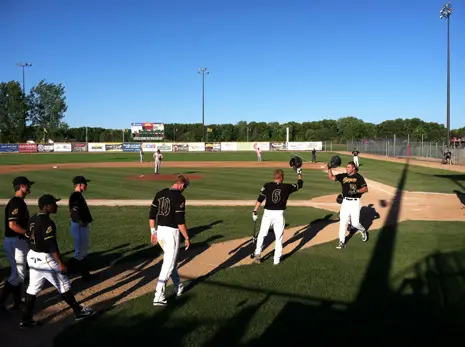 ROCHESTER, Minn. (July 26, 2012) – Friday brought a new North Division leader as the Stingers came back with two runs in the sixth inning to beat the Huskies and take over a half game lead in the North.
The Woodchucks won a pitcher's duel by a 1-0 score to put distance between them and the Mallards.
Alexandria 9, Mankato 1
Ali Simpson (Bethune-Cookman) improved to 2-1 on the season by throwing six innings and striking out 10 batters. The MoonDogs will travel to Thunder Bay on Saturday to face the Border Cats at 6:05 p.m. ET. The Beetles will host the Waterloo Bucks on Saturday at 7:05 p.m.
Waterloo 17, Rochester 9
The Bucks put up an eight spot in the top of the fifth to bury the Honkers early. They were led by Jordan Adams (Central Michigan) who went 3-for-6 with six RBI and two home runs. The Honkers will host the Duluth Huskies on Saturday for a 7:05 p.m. start.
St. Cloud 2, Thunder Bay 5
Dan Ludwig (Belmont University) earned his fourth win of the season as he threw six innings and allowed just one earned run while striking out five. The Rox will travel to Willmar to face the Stingers on Saturday for a 7:05 p.m. start.
Duluth 6, Willmar 7
The Stingers scored two in the bottom of the sixth inning to take the 7-6 lead, which would hold up to make them the new leaders in the North Division. Mitch Rowan (San Francisco) hit his fourth home run of the season for Willmar.
Battle Creek 2, La Crosse 3
Jake Stassi (Long Beach State) threw seven shutout innings and allowed just three hits while striking out 11. He's now 4-0 on the year with a 2.27 ERA. The Loggers will host the Bombers again on Saturday for a 6:05 p.m. start.
Green Bay 0, Wisconsin 1
Jack Fischer (Wake Forest) threw six shutout innings and allowed just one hit while striking out eight to earn his sixth win of the season. He's now 6-1 with a 1.80 ERA. The Woodchucks will host the Bullfrogs again on Saturday for a 6:35 p.m. start.
Lakeshore 5, Eau Claire 11
Nick Addison (UIC) went 3-for-3 at the plate with four RBI and a run scored for the Express. The Express will host the Chinooks on Saturday with the first pitch scheduled for 6:35 p.m.
Madison 4, Wisconsin Rapids 5
Brandon Downes (Virginia) went 3-for-4 with two RBI and two runs scored. He also connected for his fifth home run of the season. The Mallards will host the Rafters again on Saturday for a 6:35 p.m. start.