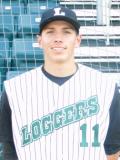 LA CROSSE, Wis. (July 30, 2012) – La Crosse Loggers starting pitcher James Guillen (USC) earned the honor of Northwoods League Pitcher of the Night for Monday, July 30.
Guillen threw seven innings and allowed just one run on five hits. He also struck out seven batters and walked none. He is now 4-2 with a 2.85 ERA.
The Loggers won the game 7-1. La Crosse will host the Mallards on Monday for a 7:05 p.m. start.