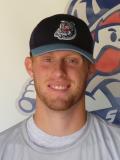 ST. CLOUD, Minn. (August 7, 2012) – St. Cloud Rox starting pitcher Tadd Johansen (Wayne State) earned the honor of Northwoods League Pitcher of the Night for Tuesday, August 7.
Johansen earned the complete game win for his third win of the season. He threw nine innings, allowed one earned run on five hits and struck out seven batters. He is now 3-2 on the season with a 4.43 ERA.
The Rox won the game 3-2. St. Cloud will host the Bucks on Wednesday for a 7:05 p.m. start.