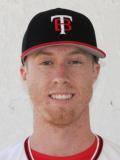 THUNDER BAY, Ontario (August 10, 2012) – Thunder Bay Border Cats starting pitcher Sean Becker (Cal State U-East Bay) earned the honor of Northwoods League Pitcher of the Night for Friday, August 10.
Becker threw seven innings allowing no earned runs on two hits and striking out nine Duluth batters. He's now 3-1 on the season with a 2.46 ERA.
The Border Cats won the game 8-1. Willmar will host the Border Cats on Saturday for a 6:05 p.m. start.