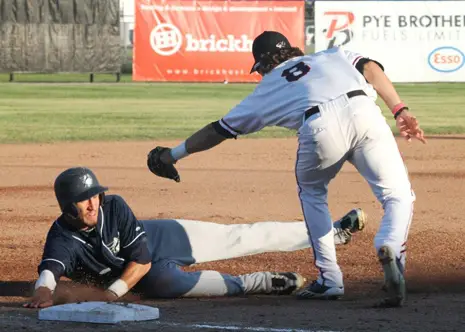 ROCHESTER, Minn. (August 10, 2012) – The race for the final playoff spot in the North Division still involves three teams with just two days to play in the regular season. The Willmar loss Friday and the Alexandria win means the three teams are within one game of each other for the second half title.
Mankato 6, Willmar 0
Kyle Turner (Missouri Baptist) had a 4-for-5 night with two runs scored while three Mankato pitchers combined for 16 strikeouts in the shutout victory. Willmar will host the Border Cats on Saturday for a 6:05 p.m. start and the MoonDogs will travel to Waterloo for a 6:35 p.m. first pitch. Mankato's magic number is one to clinch home field advantage in the North playoffs. Willmar would clinch the second half title with a win and a St. Cloud loss.
Rochester 12, Alexandria 15
Alexandria scored a remarkable 12 runs in the 7th inning to upend Rochester and stay in the playoff chase. Ryan Padilla (New Mexico) hit a grand slam in the comeback for his eighth home run. Anthony Bazzani (Eastern Kentucky) earned his league-leading 16th save with three strikeouts in the 9th. The Honkers will host the St. Cloud Rox on Saturday at 7:05 p.m. and the Beetles will travel to Duluth for a 7:05 p.m. scheduled first pitch. Alexandria needs to win their final two games, have Willmar lose it's final two games and have St. Cloud lose one game in order to reach the playoffs.
Duluth 1, Thunder Bay 8
Sean Becker (Cal State U – East Bay) threw seven innings with no earned runs on two hits and struck out nine batters. He is now 3-1 on the year with a 2.46 ERA for Thunder Bay. The Border Cats travel to Willmar to wrap up the season this weekend while Duluth hosts Alexandria.
Waterloo 8, St. Cloud 6
Waterloo snapped St. Cloud's 8-game winning streak on Friday night and kept the Rox from taking over first place in the North. Kevin Kaczmarski (Evansville) hit his 10th home run and drove in four runs in the victory. Waterloo hosts Mankato this weekend while St. Cloud heads to Rochester. St. Cloud will need at least one Willmar loss to have a chance at the postseason.
Eau Claire , Battle Creek (Postponed)
These two teams will play a double-header beginning at 5:05 p.m. ET on Saturday.
La Crosse 9, Green Bay 4
The Loggers won their 8th straight game and are playing extremely well in the final days before the postseason. A 3-for-5, two run, two RBI game for Tyler Kuresa (UC Santa Barbera) paced the Loggers 9-hit attack. The Bullfrogs will host the Loggers again on Saturday for a 7:05 p.m. start.
Wisconsin 5, Madison 8
The Woodchucks dropped their fifth straight game since clinching a playoff spot. Madison's Tyler Marincov (North Florida) doubled, tripled, drove in two and scored twice in the win.The Mallards and Woodchucks will meet again on Saturday for a 6:35 p.m. start time.
Lakeshore 7, Wisconsin Rapids 4
Michael Jurgella (St. Cloud State) smacked two doubles and was one of four Chinooks with three hits in the victory. The Rafters will host the Chinooks again on Saturday at 6:05 p.m.