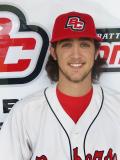 BATTLE CREEK, Mich. (August 11, 2012) – Battle Creek Bombers starting pitcher Kyle Teague (Grand Valley State) earned the honor of Northwoods League Pitcher of the Night for Saturday, August 11.
Teague threw a complete-game shutout against the Express, throwing seven innings, allowing no runs on two hits and striking out six batters. He his now 4-6 with a 3.59 ERA on the season.
The Bombers won the game 1-0. Battle Creek will host the Express on Sunday for a 5:05 p.m. ET start.