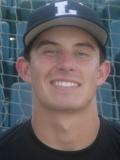 LA CROSSE, Wis. (August 14, 2012) – La Crosse Loggers outfielder Jimmy Bosco (Arkansas) earned Northwoods League Player of the Night for Tuesday, August 14.
Bosco pinch-hit for the Loggers with bases loaded in the bottom of the 11th inning and drove a walk-off RBI single to left field to give La Crosse the 8-7 win and advance them to the Summer Collegiate World Series.
The Loggers won the game over the Woodchucks, 8-7, and now wait for the winner of the North Divisional Series on Wednesday.