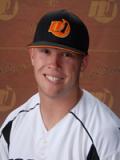 MANKATO, Minn. (August 15, 2012) – Mankato MoonDogs first baseman Craig Massoni (Chabot College) earned Northwoods League Player of the Night for Wednesday, August 15.
Massoni was the guy to get on base and get in to score for the MoonDogs. He was 2-for-4 with two runs scored for the MoonDogs. Massoni, along with guys like Kyle Turner (Missouri Baptist) and Audie Afenir (Palomar CC) powered the Mankato offense into the 2012 Summer Collegiate World Series.
The 2012 Summer Collegiate World Series between the Mankato MoonDogs and La Crosse Loggers will begin on Thursday at 7:05 p.m. in Mankato.