Summer Collegiate World Series Matchup Set
August 16, 2012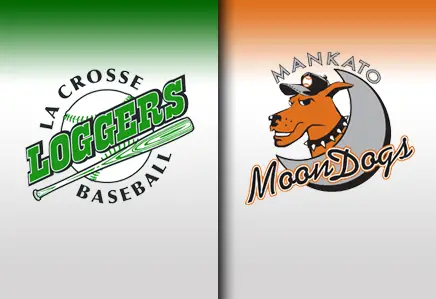 MANKATO, Minn. (Aug. 16, 2012) – The 2012 Summer Collegiate World Series begins on Thursday, Aug. 16 as the Mankato MoonDogs and the La Crosse Loggers will play a best-of-three series for the title of Northwoods League Champions.
The La Crosse Loggers are coming off of a day of rest after sweeping the Wisconsin Woodchucks in the South Divisional Series, 2-0. The Loggers have played the role of comeback kids so far this postseason. In game one, the Loggers trailed 6-5 in the top of the ninth inning, before scoring nine runs in that inning and taking game one, 14-6.
La Crosse scored three runs in the bottom of the ninth of game two to tie the game at seven. In the bottom of the 11th inning with the bases loaded, pinch-hitter Jimmy Bosco (Arkansas) drove a walk-off single to left field and sent the Loggers the Summer Collegiate World Series.
The Mankato MoonDogs came out swinging in game one of the North Divisional Series as they posted a 10-5 victory. In game two, the Stingers were led by Kody Gorden (Nevada) who threw eight shutout innings and struck out seven batters to help the Stingers blank the MoonDogs, 4-0, and send the series to the third and deciding game.
Mankato jumped on top early in game three of the North Divisional Series and were led by the dominant pitching performance of Davis Henderson (Oklahoma City) who threw 5.1 innings and allowed just one run on three hits while striking out six batters. Audie Afenir (Palomar CC) added his first home run as a MoonDog to aid Mankato to the win.
Game one of the 2012 Summer Collegiate World Series will be played at Franklin Rogers Park in Mankato, Minn. First pitch is scheduled for 7:05 p.m. Thursday. Game two will be at Copeland Park in La Crosse, Wis. at 7:05 p.m. on Friday. Game three, if necessary, will be held in La Crosse at 6:05 p.m. on Saturday.
The Northwoods League has more teams, plays more games, and draws more fans than any other Summer Collegiate Baseball League in North America. The League has 16 teams in Wisconsin, Minnesota, Iowa, Michigan, and Ontario.