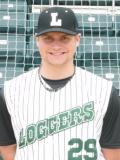 LA CROSSE, Wis. (August 17, 2012) – La Crosse Loggers catcher Tyler Servais (Princeton) earned Northwoods League Player of the Night for Friday, August 17.
Servais went 2-for-4 at the dish with two RBI and two runs scored. Servais drove in his fourth and fifth RBIs of the season in the bottom of the fifth with his second homerun of the postseason. That homerun extended the lead to 7-1 for La Crosse.
The Loggers won game two of the Summer Collegiate World Series, 8-1, to be crowned 2012 Northwoods League Champions.