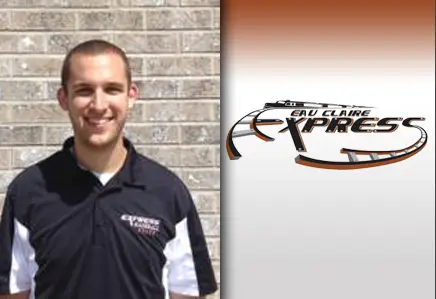 N.J. native will broadcast and assist in corporate sales
Eau Claire, Wis. – November 9, 2012 – The Eau Claire Express front office announced today the hiring of Doug Raftery to the team's front office staff. Doug will serve as the Director of Broadcasting and Media Sales, expanding on his role of play-by-play broadcaster during the 2012 season. Raftery was named Co-Play-by-Play Announcer of the Year in what was his first summer in the Northwoods League.
In his new role, Doug will continue to serve as the play-by-play broadcaster and will assist in corporate sales in the offseason. He will oversee advertising sales of the Express radio and web broadcasts and will contribute in all other areas of corporate sponsorships as well. In addition, Doug will ensure that the quality of both broadcasts remains at a high level.
"We are very fortunate to be able to add Doug to our front office staff," stated Express General Manager Andy Neborak. "The passion and energy he brought to our broadcasts last summer is something we look forward to expanding to other areas of our operation."
Raftery began his broadcasting career as a summer intern with the Rockbridge Rapids in the Valley Baseball League in 2010 and continued gaining experience with the Florence Freedom of the Independent Frontier League in 2011. In addition, he broadcasted basketball and softball while attending college at Hood College in Frederick, Maryland.
The Brick, NJ native graduated from Hood College in May of 2012 with a Communication Arts degree with a broadcasting emphasis.