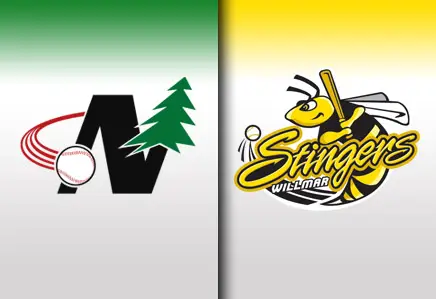 Two Northwoods League All-Stars among group coming back to Willmar
WILLMAR, MN- The Willmar Stingers announced that five members to date will be back with the team as they open their fourth season of Northwoods League action in late May. These are the first players to sign for next year, following a first-time postseason berth by the Stingers in only their third year of being in the league.

Players returning include sophomore right-handed pitcher Brady Anderson (Florida Gulf Coast University), sophomore outfielder/first baseman Michael Suchy (Florida Gulf Coast University), sophomore infielder Max Kuhn (University of Kentucky), junior left-handed pitcher/first baseman Steven Brault (Regis University) and redshirt freshman third baseman Karl Sorenson (St. Cloud State University).
Anderson was arguably the top Northwoods League relief pitcher in 2012. The 5-foot-11, 175 pound right-hander set a single-season franchise record with 15 saves, a mark that was good for second on the Northwoods League leader board. He was named to the 2012 Northwoods League All-Star Game in Madison, WI. and was one of two Northwoods League Post-Season All-Stars following the season. Anderson went 3-1 with 15 saves and a 3.00 ERA in 23 relief appearances for the Stingers while earning a reputation as a fearless pitcher who delivered in crucial late-inning situations.
Joining Anderson for a second year with the Stingers is college teammate Michael Suchy. Suchy ended up having one of the best offensive seasons in Stingers history last year. The 6-foot-3 225 pound Florida Gulf Coast product had a team-leading batting average of .349 with 8 home runs, a team-leading 62 RBI with 17 stolen bases in 66 games. His RBI total broke Willmar native Jordan Smith's total from the Inaugural season in 2010. Suchy finished fifth in the league in batting average and 2nd in RBI in 2012 and earned a Rawlings Silver Slugger award last month. He was also named to the 2012 Northwoods League All-Star team in Madison, while also earning Northwoods League Post-Season honor as well.
Kuhn looks to build off a solid first year in the league as well. A 6-0 foot 195 pound infielder, Kuhn delivered one of the most impactful home runs in Stingers franchise history. On July 31, Kuhn hit a game-winning two-run home run to give the Willmar Stingers a 4-2 wins over the Rochester Honkers in dramatic walk-off fashion. The first University of Kentucky player in franchise history, Kuhn played at third and first base for the Stingers. Kuhn hit .261 with five home runs and 30 RBI in 47 games last season. Kuhn was drafted out of high school by the Oakland Athletics in the 24th round of 2011 First-Year Player Draft.
No stranger to the league, Brault will return for this third year in the league. A 2011 Northwoods League All-Star for the Brainerd Area Lunkers, Brault immediately contributed for the Stingers in 2012. He earned a reputation as one of the best two-way players in the Northwoods League. Brault tied a franchise record with ten strikeouts against the Alexandria Beetles in a 6.2 inning outing on June 30th. On the mound, Brault went 1-0 with a 1.22 ERA and he struck out 27 in 22 innings pitched. Brault hit .327 with six doubles and 19 RBI in 110 at bats for the Stingers in the month of June.
Rounding out the latest to sign is St. Cloud State third baseman Karl Sorensen who had two stints with the Stingers last year. The 2012 opening day third baseman, Sorensen had five doubles in seven games as a Stinger. Sorensen rejoined the team late in the year, helping get the Stingers into the postseason. A native of Maple Grove, MN Sorensen will be a redshirt freshman for the St. Cloud State baseball team next spring.
The 2013 roster will be compiled of 30 players from across the country competing in the top-rated Northwoods League as it celebrates a milestone of 20-years of summer collegiate baseball next summer.
For more information regarding these five players who have re-signed or for season tickets next year, visit www.willmarstingers.com or call 320-222-2010. For as low as $4.97, fans can be a part of the team as a season ticket holder for 2013. The 2013 season is presented by Charter Communications.