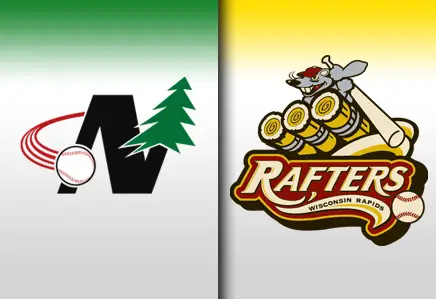 St. Cloud State catcher to return on full-season contract in 2013
Wisconsin Rapids, WI- Thursday, November 15th.  The Wisconsin Rapids Rafters announced today that St. Cloud State University catcher Michael Jurgella has signed a contract to return next summer.  The Rafters also announced they have signed shortstop Patrick Ervin, who is a teammate of 2012 All-Star outfielder Alex Bacon at the University of North Florida.
C-Michael Jurgella, 6'1", 195 lbs (R/R) Sophomore, St. Cloud State
After beginning the 2012 season as a temporary contract player for the Rafters and ending the year as a member of the Lakeshore Chinooks roster, Michael Jurgella is content to spend an entire summer in the Northwoods League close to home—and with one team.  The Rafters have signed the Plover, Wisconsin native to a full contract for 2013, ensuring that will happen.
While appearing in 16 games on a temporary contract with the Rafters during the first month of the 2012 season, Jurgella compiled a .259 batting average with four doubles and three RBIs.  Overall, with Wisconsin Rapids and Lakeshore, Jurgella appeared in 32 games and posted a .261 batting average.
As a freshman at St. Cloud State last spring, Jurgella appeared in 48 games and posted a .326 batting average and .388 on-base percentage.  In addition he slugged nine doubles, two triples, and four home runs while driving in 34, including nine multi-RBI games.
Jurgella is a 2010 graduate of Pacelli High School, where he earned four letters and was named All-State as a junior and senior.  The three-time All-Conference selection helped the Cardinals win three conference championships during his time there while also recording the highest batting average in school history with a .488 average.
IF-Patrick Ervin, 6'0", 175 lbs (L/R) Freshman, North Florida
Ervin will join North Florida teammate Alex Bacon in Wisconsin Rapids next summer following his freshman year in the spring.  Ervin was drafted by the New York Mets in the 39th Round of the 2012 MLB Draft, but chose to attend college instead of signing a professional contract out of high school. 
The left-handed hitting middle-infielder attended Pace High School in Florida he led the Patriots to the 2010 National Championship (ESPN Rise), 2010 Florida State Championship, and the 2011 Florida State Final Four.  He helped Pace High School to a 20-5 record as a freshman, 29-2 record as a sophomore, 27-6 record as a junior, and 25-7 record as a senior.  Ervin earned First Team All-District, First Team All-Area and First Team All-Region accolades as a sophomore and junior.  In addition, Ervin was tabbed a 2011 Top 100 Prospect and 2010 and 2011 All-Northwest Florida Team.  He was also the 2011 Northwest Florida leader in runs scored and top five in batting average.  Ervin hit .387 as a freshman, .403 as a sophomore, .444 his junior season.  He is a native of Pace, Florida.
The Wisconsin Rapids Rafters are members of the 16-team summer collegiate Northwoods League. Reserve your 2013 ticket packages today by calling 715-424-5400, or in person by stopping by the Rafters office at Witter Field. Available quantities of all promotional giveaways will vary from event to event and will be available on a first come, first serve basis.  The best way to guarantee giveaway items is to purchase a 9-Game Package.  The offseason office hours are Monday through Friday from 9am-4pm.  For more information, visit www.raftersbaseball.com.