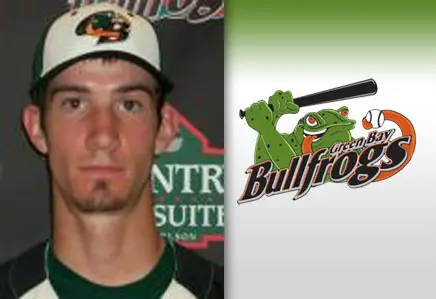 ST. PAUL, MN (November 26, 2012) – A record breaking season, American Association Rookie of the Year Award and Baseball America's eighth best rated prospect. All of that put St. Paul Saints pitcher Robert Coe on the radar for Major League organizations and it paid off as the Arizona Diamondbacks purchased his contract.
The 24-year-old Coe went 12-5 with a 2.91 ERA in 22 games (21 starts) with two complete games and a shutout. In 139.1 innings he walked 59 while striking out 87 and opponents hit just .240 against him. He finished tied for second in the league in wins and games started and third in ERA. He set the franchise record for innings pitched, surpassing Charlie Ruud's (2007) record of 138.2, and games started, which was held by five different pitchers who had 20 starts. He tied the franchise record of 12 wins, which he holds with four other players, Jim Manfred (1996), Jake Whitney (2002), Kevin Foster (2003) and Ruud (2008). His 2.91 ERA was ninth best in franchise history.
"Robert is so deserving of this opportunity," said Saints manager George Tsamis. "He was excellent for us. I really feel he can be successful at the higher levels. He works hard and will only get better."
Coe's season was filled with honors for his impressive work earning Pitcher of the Month for July going 6-0 with a 2.64 ERA and one complete game in eight starts. In 58.0 innings of work Coe walked 20 while striking out 40 and opponents hit just .235 against him. He had a string of 17.1 consecutive scoreless innings.
During the week of July 2-8, Coe earned the Pitcher of the Week for his outing on July 6 against the Lincoln Saltdogs. He tossed his first professional 9.0 inning complete game. Coe threw 113 pitches, 69 for strikes and after the first inning he didn't allow a runner into scoring position. Coe allowed one run on six hits while walking two and striking out a career high eight.
Prior to this season Coe pitched just 12.1 innings at the University of Wisconsin-Whitewater and that came in 2011 during his senior year. He went 1-1 with a 0.73 ERA and two saves. He was signed by the Saints on June 21, 2011 and went 3-1 with a 4.93 ERA in 18 games (one start). His finest appearance of the season came in Game 1 of the first round of the playoffs when he allowed one run in 6.0 innings against the Winnipeg Goldeyes.
Coe played 25 games during the summer of 2010 with the Green Bay Bullfrogs as a catcher.
Coe is the 107th Saints player to have his contract purchased during the 20 season history of the franchise, totaling 102 different players, seven of which were sold to international teams and 18 have reached the ultimate level of the Major Leagues.
Credit: Sean Aronson, Saint Paul Saints Media Relations Master