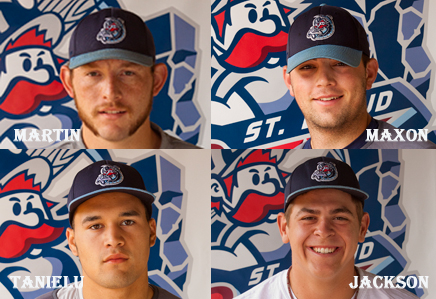 Four Rox to Return from 2012 Season
St. Cloud, MN- The St. Cloud Rox announced that four players to date will be back with the team as they open their second season of Northwoods League action in late May. These are the first players to sign for next year, following an inaugural season that fell just two wins short of making the Northwoods League postseason.
Players returning include sophomore right-handed pitcher Ty Jackson (Washington State), junior right-handed pitcher Adam Maxon (Jacksonville), junior catcher Adam Martin (Western Carolina), and redshirt freshman third baseman Nick Tanielu (Washington State).
Jackson was one of the top relief pitchers and top MLB prospects in the Northwoods League in 2012. The 6-foot-3, 230 pound right-hander had 39 strikeouts in 27 innings of work. Jackson was 2-1 on the season. He also had two homeruns in 41 at bats with limited time at first base.
Joining Jackson from Washington State for a second year with the Rox is Tanielu. Tanielu finished the 2012 season as one of the best hitters in the Northwoods League with a .336 batting average. He was second on the team with 15 doubles.
The hard throwing 6'1" 200 pound right hander Maxon returns to the Rox in 2013. He appeared in a team-high 24 games with the Rox in 2012 and had 36 strikeouts in 34.2 innings pitched. He finished the season with a team leading 10 saves.
One of the Northwoods League's top defensive catchers returns to the Rox in Martin. The 6'2" 235 pound Martin finished the 2012 season with a .995 fielding percentage behind the plate. Martin hit .258 with eight extra base hits.
The 2013 roster will be compiled of 30 players from across the country competing in the top-rated Northwoods League as it celebrates its 20th anniversary in 2013. The Northwoods League has 98 alumni that have gone on to play Major League baseball.
The Rox will begin their second season in the Northwoods League in late May of 2013. The 2013 slate of games are expected to be released in the coming weeks from the Northwoods League office. During their inaugural season the Rox led the North Division of the Northwoods League in attendance by hosting nearly 56,000 fans throughout the summer. For tickets and additional information head to the Rox website at www.stcloudrox.com or call (320) 240-9798