La Crosse Tribune Sportsperson of the Year: Chris Goodell
December 26, 2012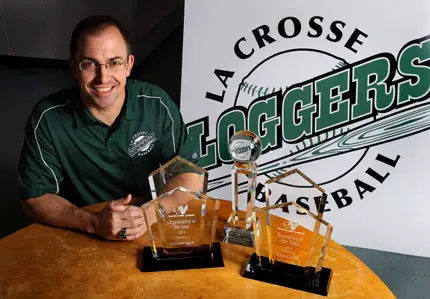 Joel Badzinski | jbadzinski@lacrossetribune.com
Photo Credit: Peter Thomson
Chris Goodell was rain-soaked and mud-splattered from head to toe. The La Crosse Loggers general manager and a crew of about eight staff members had worked for more than two hours to get the field at Copeland Park ready for play late on the night of June 16.
A summer thunderstorm had left the field a marshy mess. Backed-up drains caused both dugouts to fill up like sandy swimming pools.
Most important to Goodell, the Loggers trailed Wisconsin 8-7 in the top of the sixth inning of a key South Division first-half game.
Goodell could not hit or pitch. But he could grab a rake, every available bag of quick dry and some helpers and give the Loggers a chance to win.
Which he did. After a total delay of 2 hours, 45 minutes, the umpires declared the field ready to play and the Loggers went on to win 10-9 in 10 innings, with the game finishing at 12:28 a.m., 6½ hours after the first pitch.
Asked the next day why he kept working on the field when most fans — and the visiting team — had all but given up on baseball for the night, Goodell said: "If you're not willing to do that, then why are you even here?"
There is no doubt why Goodell, who has been the Loggers' general manager since the team joined the Northwoods League in the fall of 2002, is here.
Goodell loves baseball, and the challenge of making the Loggers the best summer collegiate franchise in the country.
A strong argument could be made that he reached that goal in 2012 as the Loggers won their first Northwoods League championship and drew 100,000-plus fans for the eighth consecutive season.
Goodell, 37, is the Tribune's 2012 Sportsperson of the Year. He earned the same honor in 2009.
"I never met a guy more dedicated to his craft than Chris is to the Loggers," assistant general manager Ben Kapanke said. "He works so hard, and all the success is really a tribute to his dedication. La Crosse is one of the best places for summer baseball because of what he's done."
Tireless worker
Six months after the rain delay game, Goodell said he would do it all over again, for 35 home games if necessary.
"We have an obligation to the fans and to the players," Goodell said. "We had a game scheduled that night. We were in the midst of a pennant race and our guys were ready to go. We saw it was possible to get it done; it just took extra work."
The Loggers organization's culture of hard work started when the NWL awarded Dan and Ruth Kapanke a franchise in October 2002. Later that month, they hired Goodell, who had been an assistant GM with the Waterloo Bucks.
La Crosse, which was the only NWL team that had to build its stadium from the ground up, immediately became one of summer baseball's top-drawing teams and starting in 2005, hit the 100,000 attendance mark, something it has done annually ever since.
On the field, the Loggers won a South Division pennant in 2004 and were competitive in 2006, but never quite got rolling.
That changed when Sacramento City College coach Andy McKay's resume landed on Goodell's desk in the fall of 2007 following the resignation of Rick Boyer.
McKay proposed a minor-league style program of player development, which would in turn lead to winning. On the other hand, it would push players mentally and physically and raise eyebrows around the league. La Crosse would not be a summer vacation spot.
After several rounds of interviews with McKay, Goodell and the Kapankes decided to go for it.
The arrival of McKay in 2008 changed the course of Loggers franchise and had a significant impact on the NWL.
For Goodell, it reinforced what he had always believed a summer baseball team should be.
"You look at at the offseason of '07 and I think we were really looking for an identity on the field," Goodell said. "As we evaluated the first five years, the highs and lows, yes, we got in the playoffs in '04 and we had a lot of individual prospects. But when we started looking at Andy and what he wanted to do, we thought, 'Wait a minute. This isn't normal stuff.' So we went all in — let's see if this system works."
The McKay Era
McKay led the Loggers to a 210-139 record from 2008-12, the NWL's best mark over that period, with a South Division title in 2009. The Loggers put it all together this past summer, going 49-21 during the regular season, then swept Wisconsin and Mankato in the playoffs en route to the championship.
La Crosse had become known around the league for McKay's system, which brought players to the park by 2 p.m. most days for drills, extra hitting and mental work.
Outfielder Bobby Juan, who played at Central High School, said he noticed that no matter how hard the players and coaches were grinding away, Goodell was too.
"We'd show up five hours before the game and Chris is already there, doing work on the field or taking care of something," Juan said. "The first impression everyone gets is that he's going to do everything he can to help the players. You see a guy who really does what's best for the team."
The end of the 2012 season also marked the end of an era for the Loggers.
McKay had announced in 2011 that he would manage one more season, and stuck to his word. McKay was hired as the Colorado Rockies' Coordinator of Mental Skills in September. La Crosse also drew its one-millionth fan in 2012.
Goodell is eager to lead the team into its next decade. The Loggers have hired NWL veteran Jason Nell as their new manager and are busy filling the roster.
"It's a new set of challenges," Goodell said.
Crowning moment
When Loggers closer Jonathan Van Eaton got Mankato's Andrew Coffman to fly out to left fielder Joe Meggs to clinch an 8-1 win and the NWL title on Aug. 17 at Copeland Park, it was a crowning moment for the La Crosse franchise.
As for Goodell, he waited with assistant general manager Ben Kapanke behind the Loggers' dugout with coolers full of non-alcoholic Champagne and boxes of T-shirts. He was brimming with excitement, but also had one more job to do.
"We wanted everything to be in place," Goodell said. "We wanted them to have their moment; they earned the right to have it."
And soon enough, Goodell was again soaked from head to toe. Not with summer rain, but with celebratory showers.
"The moment of that, to get the final out on your field, that's the ultimate goal," Goodell said. "It was about as special as it gets."