Rox Sign Four to Bolster Pitching Staff
January 14, 2013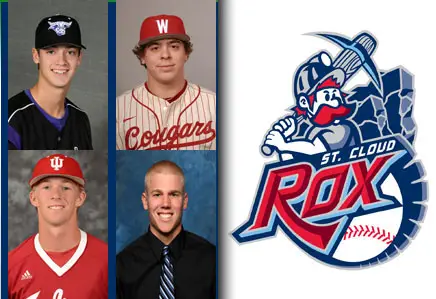 St. Cloud, Minn. – The St. Cloud Rox announced the signing of four pitchers to the 2013 roster. Kasey Ralston (Indiana University), John Oltman (Creighton University), Jason Hoppe (Minnesota State University) and Bryce Jackson (Washington State) have all signed to play for the Rox this upcoming season.
Hoppe, a 6'1" 170 pound right-handed junior pitcher comes to the Rox after playing last season with the Lakeshore Chinooks. Hoppe pitched extremely well last summer in the Northwoods League, crafting a 5-2 record with 2.05 ERA in nine appearances. In 2012 Hoppe recorded an 8-1 record with a 2.54 ERA in 17 appearances for the Mavericks. He was named to the NSIC All-Tournament Team in 2012. He comes to us from the same high school as 2012 Rox All-Star Andy Henkemeyer. Hoppe is a native of Sauk Rapids, Minnesota.
Ralston, a 6'1" 170 pound freshman right-handed pitcher is new to the Northwoods League as he is in his first year with the Indiana Hoosiers. In high school at Holy Family Catholic, Ralston posted a 0.53 ERA with 106 strikeouts while holding opponents to a .139 batting average as a senior. He was named to the All-State and Academic All-State teams and the Minnesota Class AA Player of the Year in 2012. Ralston is a native of Chaska, Minnesota.
Oltman, a 6'1" 200 pound left-handed pitcher is also new to the Northwoods League as he is about to start his first year with the Bluejays as a redshirt freshman. During high school Oltman was a two-sport athlete playing baseball and football. He earned many honors including being named to the All-State team. Oltman is a native of Cortland, Nebraska.
Jackson, a 6'3" 213 pound left-handed pitcher is in his second season with the Cougars after making 10 appearances in his rookie season. Bryce is the twin brother of Rox veteran pitcher Ty Jackson. In high school, Jackson was named Columbia Basin Big Nine 3A Conference First Team pitcher as a junior after posting a 2.10 ERA. Jackson is a native of Kennewick, Washington.
"We are thrilled to have all four of these outstanding pitchers join the Rox family for the 2013 season and they all have the ability to be in the starting rotation this summer," said Vice President Scott Schreiner.
"It is no secret that to make a championship run you need solid pitching and that's exactly what each of these guys bring to the table. They will all be fun to watch this summer"
The Rox 2013 Home Opener is set for Friday, May 31st against the Thunder Bay Border Cats at Joe Faber Field. To kick-off the season at Joe Faber Field there will be an amazing post-game fireworks show presented by Coborn's.
The 2013 roster will be compiled of 30 players from across the country competing in the top-rated Northwoods League as it celebrates its 20th anniversary in 2013. The Northwoods League has 96 alumni that have gone on to play Major League baseball. Rox season tickets and small ticket packages are currently on sale. For tickets and additional information call the Rox office at (320) 240-9798.