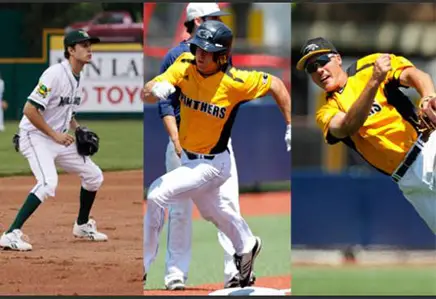 Madison, WI – January 21, 2013. The Madison Mallards have announced the re-signing of redshirt sophomore infielder Michael Handel from the University of Minnesota, and the signings of sophomore outfielder Luke Meeter and junior infielder Sam Koenig from UW-Milwaukee.

Handel, a 6'1", 180 pound Sun Prairie native played in 2011 for the Mallards after red-shirting his freshman season as a Golden Gopher. In 2011 with the Mallards, Handel got off to a slow start but in his last ten games he batted .307 with two home runs, and seven RBIs. For the season Handel appeared in 46 games, 6th on the 2011 Mallards roster. In 2012, Handel played in 49 games for the Golden Gophers, including 45 starts. He ranked second on the team with 126 assists and maintained a .970 fielding percentage. He batted .265 with two home runs and 12 RBIs in 155 at-bats. After the season Handel was named to the All-Big Ten Freshman Team.

Handel attended nearby Sun Prairie High School where he earned All-State Honors in 2009 and 2010. During his senior season he batted .429, scored 27 runs, stole 17 bases, and recorded 25 RBIs while leading the Cardinals to a Big 8 Conference Championship. He is undecided on a major at Minnesota.
Meeteer, a 5'11", 185 pound Middleton native will join the Mallards after completing his sophomore season with the Panthers. As a freshman Meeteer led the team in batting average (.331) and steals (16). He also contributed one home run and 15 RBIs while appearing in 48 games and making 44 starts. He was named First-Team All-Horizon League following the season.

Meeteer spent the summer of 2012 playing for the West Virginia Miners of the Prospect League. He hit .344 with two home runs and 21 RBIs in 51 games for the Miners while being named a Prospect League All-Star.

Meeteer was a standout at Middleton High School where he was named First-Team All-State by the Wisconsin Baseball Coaches Association following his junior and senior seasons. He batted .515 with a .566 on-base percentage as a senior and .462 with a .548 on-base percentage as a junior while leading the Cardinals to a 22-4 record. He was also named a All-State Academic Team member. He is majoring in Kinesiology at UW-Milwaukee.
Koenig, a 6'5", 220 pound junior will join the Mallards on a temporary contract. A Prairie Du Sac native, Koenig will come to Madison following his third season with the Panthers. In 2012, he hit .300 and set career highs in runs (35), hits (57), doubles (13), and RBIs (28). He also walked a team high 22 times for a .375 on-base percentage. Following the season he was named to the College Sports Madness Second-Team All-Horizon League team. As a freshman in 2011, Koenig batted .247 with 13 RBIs, 41 hits, and 24 runs. He appeared in 50 games including 47 starts.

Koenig was a unanimous First-Team All-Badger North Conference selection following his senior season at Prairie Du Sac after batting .473 with six home runs, 29 RBIs, 32 walks and 23 runs scored. He also earned Second-Team All-State Honors by the Wisconsin Baseball Coaches Association for the second straight season. As a junior he led state players in home runs, with 12 and drove in 34 runs. He is majoring in Education at UW-Milwaukee. In 2002, his older brother Lucas Koenig played for the Mallards while attending Madison College.

The Mallards will host their season opener against the Eau Claire Express on May 29th at 7:05 pm at the "Duck Pond." Single-game tickets will go on sale April 27th.

The Madison Mallards are part of the 16-team Northwoods League. The Northwoods League has more teams, plays more games, and draws more fans than any other Summer Collegiate Baseball League in North America. In 2013 the Northwoods League will celebrate it's 20th season.