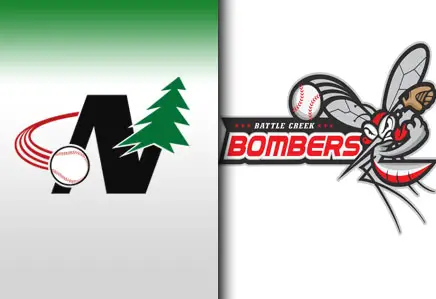 Daniel Cucjen: 6'0" – 175lb, B/R-T/R, INF, Alabama (Fr.), Shreveport, La.(Pictured left)
Matthew Goodson: 6'0" – 200lb, B/R-T/R, OF, Alabama (Fr.), Oxford, Ala.(Pictured right)
BATTLE CREEK, MI- The Battle Creek Bombers have announced Alabama's Daniel Cucjen and Matthew Goodson as their third set of signings from a Southeastern Conference team.
For a freshman, Cucjen brings in a ton of winning experience. The Shreveport native led his Evangel Christian Academy high school team to two state championships in three years. As a senior, he hit .432 with 42 RBIs that garnered an All-State selection from the Louisiana Sports Writers Association.
The Cucjen family is well versed in the sport. Daniel's father Romy played minor league ball in the late 1980's getting to the Triple-A level by 1990. Cucjen's cousins Kelly and Mari Majam play Division I softball at the University of Hawaii and Northwestern University respectively.
Goodson heads to Battle Creek with a state championship under his belt as well. He aided Oxford High School to its first state title in school history in 2012. The outfielder was also named a preseason third-team All-American by Rawlings prior to his senior season after he hit .480 with 20 home runs and 62 RBIs in 2011.
At the conclusion of his senior year, Goodson was ranked as the 199th prospect in the nation and eighth in the state of Alabama by Perfect Game USA.
The Battle Creek Bombers are members of the Northwoods League that has more teams, plays more games, and draws more fans than any other summer collegiate baseball league in America. The team opens up its 7th season in Battle Creek on Wednesday, May 29th. For information on tickets call (269) 962-0735 or visit BattleCreekBombers.com