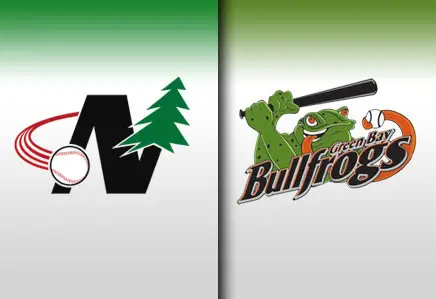 Just over one month after hiring a new field manager in Karl Johnston, the Green Bay Bullfrogs of the Northwoods League have finalized their full coaching staff for the 2013 season.
Joining Johnston on the staff will be his former teammate at Rider University Darron Lattomus, former University of Nebraska catcher Corey Burleson, and current Reedsville High School baseball coach Chris Krepline.
Lattomus, who currently serves as an assistant coach at Southern Arkansas, will coach third base, and work with hitters, outfielders and base runners. He was a captain at Rider University, and Johnston is excited to have someone with his experience on board.
"He brings solid leadership qualities along with a tireless work ethic," said Johnston, who was hired as the Bullfrogs field manager in January. "He will be a great asset to our coaching staff this summer. "
While together as players in college, Johnston and Lattomus won two Metro Atlantic Athletic Conference championships and appeared in the NCAA Division I regionals in 2008 and 2010.
Burleson will handle the pitching coach duties for the upcoming season. He is former Northwoods League player and a four year starter as a catcher at Nebraska. With a myriad of experience on the field, Burleson brings a wealth of knowledge with him to Green Bay.
As is the case with Lattomus, Johnston also has some prior familiarity with Burleson. He and Johnston's brother, Jonathon, coach together at the University of California San Diego, where Burleson was hired in September of 2012. He also spent this past summer guiding a U-16 team based out of Denver, Colo.
Lastly, Krepline, who played for the Bullfrogs in their inaugural 2007 season, will assist Burleson in managing the pitching staff. Krepline will also coach first base.
With strong ties to the Green Bay area, Chris will also coordinate the Bullfrogs Summer Baseball Camp.
Please call 920-497-7225 or log on to www.greenbaybullfrogs.com for more information.
The Bullfrogs are a part of the 16-team Northwoods League. The Northwoods League has more teams, plays more games, and draws more fans than any other Summer Collegiate League in North America.