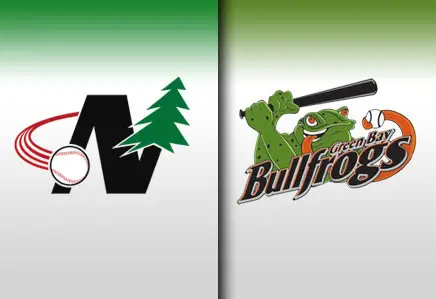 Frogville, WI – As the 2013 Northwoods League season gradually approaches, the Green Bay Bullfrogs have resigned two key pitchers from last season's roster.

Bryce Bellin (Minnesota State) and Ben Graff (San Francisco) will return to Green Bay for this summer's season.

Bellin, a Kimberly native, was the Bullfrogs' ERA leader in 2012 with an earned run average of 2.61 in 58.2 innings pitched. He also led Green Bay's league-best pitching staff with in wins, posting a 5-3 record in 13 appearances, 10 of which were starts. Bellin was one of six Bullfrogs to be named to the midseason Northwoods League All Star Team, and was the lone Green Bay player to be named to the postseason Northwoods League All Star Team.

Bellin is off to a slow start at Minnesota State this season. Through two starts, he is 1-1 with an ERA of 9.00.

Graff was not quite as productive as Bellin for the Bullfrogs in 2012, but did post a 3.57 ERA in 58 innings pitched. The southpaw went 3-3 in 20 appearances (eight starts), and allowed just six hits by left-handed batters all season long.

In his collegiate season at San Francisco, Graff has posted 3.00 ERA in four relief appearances thus far. His record is 1-0.
The Bullfrogs' home opener is Thursday, May 30 against the Wisconsin Woodchucks. Tickets are available.

Please call 920-497-7225 or log on to www.greenbaybullfrogs.com for more information.
The Bullfrogs are a part of the 16-team Northwoods League. The Northwoods League has more teams, plays more games, and draws more fans than any other Summer Collegiate League in North America.