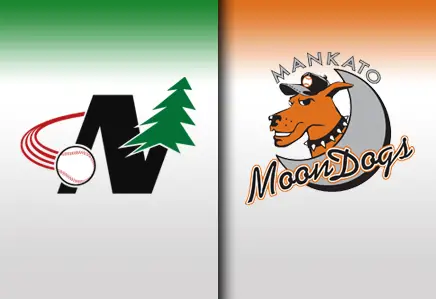 MANKATO, Minn.–The Mankato MoonDogs Baseball Club, a member of the Northwoods League, is excited to announce the commitment of pitcher Zach Hobbs, along with infielders Jake Welch and Jake Yacinich to play for the MoonDogs in the 2013 season.
Hobbs, a 6-foot-5-inch, 215-pound sophomore from Navarro Junior College (Corsicona, Tex.) is looking to improve upon his impressive freshman year with the Bulldogs. In 2012, Hobbs posted a 1.58 ERA with 40 strikeouts, in 62.2 innings of work. The Palmer, Tex. native southpaw also had a 5-1 record for the Bulldogs in 2012.
"Zach has an impressive change up that will confuse a lot of batters," said Field Manager Mike Orchard. "He will fit into either a starting or relief role for us this summer."
Welch, a 5-foot-10-inch, 170-pound junior from Southern Illinois University is currently hitting .305 with six doubles and 13 RBIs for the Salukis this spring, while starting all 20 games for them so far. In 2012, Welch was the leadoff hitter for the Salukis for all 55 games he played in, while leading the team in stolen bases with 16.
"Jake has the ability to get on and steal a lot of bases," said Orchard. "With Jake being a 3-year starter for SIU, we look for him to be a veteran guy on our squad in 2013."
In the summer of 2012, Welch played for the Richmond RiverRats (Indiana) of the Prospect league, where he was named to the Postseason All-Star team.
Yacinich, a 6-foot-2-inch, 180-pound sophomore from the University of Iowa continues to make his mark for the Hawkeyes, batting .348 in 66 at-bats this spring. The Des Moines, Iowa native is also leading the team with 13 RBIs. In his freshman campaign, Yacinich lead the Big Ten Conference and was ranked 22nd nationally with 14 sacrifice bunts. "Zach is off to a hot start for the Hawkeyes this spring and we're excited to have him on board this summer," said Orchard. "He is an athletic shortstop and also possesses good base running skills."
In the summer of 2012, Yacinich played for the Petersburg Generals (Virginia) of the Coastal Plains League.
The MoonDogs home opener is scheduled for Wednesday, May 29th at 7:05 p.m. against the Rochester Honkers at Franklin Rogers Park. Season tickets are now on sale at the MoonDogs office located at 1221 Caledonia Street. For more information, visit our website www.mankatomoondogs.com or call the MoonDogs office at 507-625-7047.