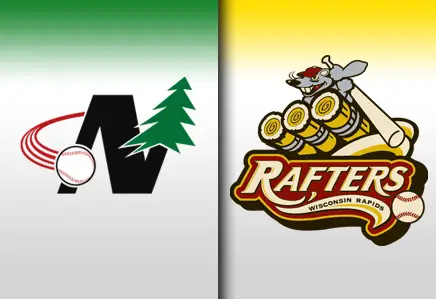 Highly touted North Florida freshman, former Prospect League All-Star join team
Wisconsin Rapids, WI-The Rafters announced a pair of additions to the roster today by announcing the signings of outfielder Donnie Dewees (North Florida) and utility player Jackson Slaid (Montevallo). North Florida currently carries a team record of 21-10 while Montevallo has a record of 24-12.
OF-Donnie Dewees, 6'0", 200 lbs (L/L) Freshman, North Florida
Dewees has gotten off to a tremendous start in his first season with the Ospreys. In 29 games (24 starts) he has posted a .346 batting average, ranking him fourth on the team in that category. He has also been an extra-base hit machine, smacking 10 doubles, three triples, and three home runs to go along with 25 runs scored and 25 RBIs. Dewees currently carries an on-base percentage of .425.
Dewees attended Crystal River High School in Florida where he was named First Team All-Area as a sophomore and junior and tabbed All-County Player of the Year during his sophomore season. As a freshman he was named his team's Most Valuable Player.

As a sophomore he posted a .487 batting average with 26 runs, 17 RBIs, seven doubles, four triples, and ten stolen bases on his way to being named Offensive Player of the Year. As a junior he was named Defensive Player of the Year while also batting .387 with 26 runs, 18 RBIs, two doubles, two triples, and 14 stolen bases. His senior season, Dewees, posted a .410 batting average with 14 doubles, six triples, four home runs, while adding 12 stolen bases.
Dewees is the grandson of former Baltimore Orioles player, John Rodemeyer. He is a native of Crystal River, Florida.
UTIL-Jackson Slaid, 5'10", 205 lbs (R/R) Junior, Montevallo
Slaid is having a tremendous first season for Montevallo, after transferring from Louisiana State University where he spent his first two collegiate seasons. Slaid has experience at catcher, first base, and the outfield, versatility that will provide invaluable flexibility for manager Jake Martin this summer.
Slaid has started all 36 games in which he has appeared this spring, posting a .299 batting average with nine doubles, one home run and 35 RBIs. He ranks second on the team in RBIs and currently carries a .350 on-base percentage while batting in the heart of the Falcon's lineup. His versatility in the field hasn't affected him one bit, as he has posted a .991 fielding percentage so far this season.
Last spring, while with LSU, Slaid batted .271 with 10 runs scored, one home run, and 8 RBIs in 11 starts. He is no stranger to summer collegiate baseball, having played in the Prospect League in 2011 where he was named an All-Star and a Top 25 Prospect after batting .340 with 10 doubles, two home runs, and 35 RBI.
Slaid attended Lakeside High School in Sibley, Louisiana where he was a three-time First Team All-State selection and was named the 2010 Shreveport Times All-Area Player of the Year as a senior. He is a native of Sibley, Louisiana.
The Wisconsin Rapids Rafters are members of the 16-team summer collegiate Northwoods League. The Northwoods League has more teams, plays more games, and draws more fans than any other Summer Collegiate League in North America.

In 2013 the Northwoods League will celebrate its 20th season. Opening Day at historic Witter Field is scheduled for Wednesday, May 29th at 7:05 pm against the Lakeshore Chinooks. Reserve your 2013 ticket packages today by calling 715-424-5400, or in person by stopping by the Rafters office at Witter Field.

Available quantities of all promotional giveaways will vary from event to event and will be available on a first come, first serve basis. The best way to guarantee giveaway items is to purchase a 9-Game Package. The offseason office hours are Monday through Friday from 9am-5pm. For more information, visit www.raftersbaseball.com.