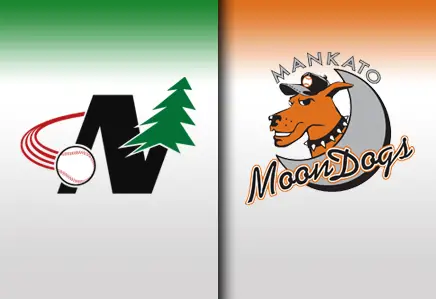 MANKATO, Minn. — The Mankato MoonDogs Baseball Club, a member of the Northwoods League, is pleased to announce the commitment of outfielder Hibraim Cordova, along with infielders Brandon Jackson and Brendan Constantino to play for the MoonDogs in the 2013 season.
Cordova, a 6-foot-1-inch, 200-pound junior from the University of the Cumberlands (Williamsburg, Ky.) is in his first season with the Patriots after transferring from Des Moines Community College. The Vega Baja, Puerto Rico native is currently batting .292 with nine doubles and three homeruns. The right-hander is posting a team high in RBIs with 24 and stolen bases with 15.
"Hibraim is a speedy outfielder that can cover a lot of ground," said MoonDogs Field Manager Mike Orchard. "On offense, he has a lot of power to go along with his speed."
Jackson, a 6-foot-1-inch, 180-pound junior from Nicholls State University (Thibodaux, La.) is in his first year with the Colonels after transferring from Labette Community College (Parsons, Kan.). In 2012, while at LCC, Jackson hit .422 with 17 doubles, two triples and six homeruns, while driving in 58 runs. Through 18 games this spring, Jackson is currently batting .320.
"Brandon is a do it all type guy," said Orchard. "He has the ability to both pitch and hit, but will primarily be a middle of the order guy for us."
Constantino, a 5-foot-8-inch, 175-pound junior from Seton Hill University (Greensburg, Pa.) is looking to continue the success he has had in his previous two seasons with the Griffins. In 2012, Constantino was second on the team with a .370 batting average, while also collecting 211 at-bats, 78 hits and 35 stolen bases, which were all team bests. Through 26 games this spring, Constantino is batting .352 while leading the team in stolen bases with 20.
"Brendan is a small body guy that opposing teams will hate to play against," said Orchard. "He has a good bat and a lot of speed that should be a big asset to the top of our order this summer."
Constantino currently ranks second all-time in Seton Hill history with 69 stolen bases.
The MoonDogs home opener is scheduled for Wednesday, May 29th at 7:05 p.m. against the Rochester Honkers at Franklin Rogers Park. Season tickets are now on sale at the MoonDogs office located at 1221 Caledonia Street. For more information, visit our website www.mankatomoondogs.com or call the MoonDogs office at 507-625-7047.