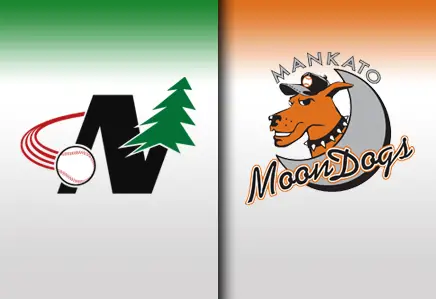 MANKATO, Minn. — The Mankato MoonDogs Baseball Club, a member of the Northwoods League, is proud to announce that Ryan Rosthenhausler, Jake Ellison, Dan Mooney and Keelan Prince have signed temporary contracts to play for the MoonDogs in the 2013 season.
Rosthenhausler, a 6-foot-1-inch, 150-pound junior infielder from Southern Illinois University is in his first season with the Salukis after transferring from Gateway Community College. While at GCC, the Tucson, Ariz. Native hit .312 with 23 RBIs and 13 stolen bases in 14 attempts for the Geckos. Ellison, a 6-foot-3-inch, 210-pound outfielder from Middle Tennessee State University is in his first season with the Blue Raiders, after transferring from Walters State Community College.

In 2012 while with Walters State, Ellison batted .349 with 50 RBI and 9 homeruns helping lead the Senators to a TCCAA Region IV title, a No. 1 national ranking and a 52-11 record.
Mooney, a 6-foot-4-inch, 210-pound sophomore from Ohio Dominican University has appeared in 42.2 innings for the Panthers this spring. The Wauconda, Ill. Native has a 4-3 record with a 2.74 ERA to go along with 41 strikeouts.
Prince, a 6-foot-5-inch, 210-pound junior from Western Illinois University is in his first season with the Leathernecks after transferring from Black Hawk College. In 2011 as a freshman for BHC, Prince pitched a no-hitter in his first collegiate game. In 2012 he posted a 6-0 record with a 2.60 ERA with 40 strikeouts in 44.2 innings while walking only 10 batters.
The MoonDogs home opener is scheduled for Wednesday, May 29th at 7:05 p.m. against the Rochester Honkers at Franklin Rogers Park. Jeff Reardon will be the Opening Night Guest presented by Wealth Enhancement Group, along with a fireworks extravaganza. Season tickets are now on sale at the MoonDogs office located at 1221 Caledonia Street. For more information, visit our website www.mankatomoondogs.com or call the MoonDogs office at 507-625-7047