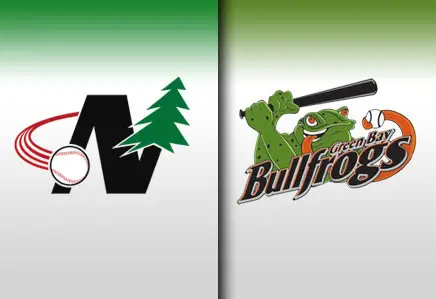 The Bullfrogs have signed three additional players, two of whom have previous Northwoods League experience, to their 2013 roster.
Infielders Brenden Farney (California) and Bryant Burleson (Texas Tech), and pitcher Logan West (San Francisco) will play their summer baseball in Green Bay in the 2013 season.
Farney is a veteran of the Northwoods League, having played with the defending Northwoods League champion La Crosse Loggers in 2012. He played in 56 games for the Loggers last season, collecting 33 hits and driving in 23 runs. 49 of his 56 appearances were at the second base position. At Cal in the 2013 collegiate season, Farney is batting .302 with 10 RBI. He has an on base percentage of .381 and is second on the Bears' roster with seven sacrifice hits
Burleson is also an infielder, and is on a temporary contract with the Bullfrogs to begin the 2013 season. He played in nine games with the Mankato Moondogs of the Northwoods League in 2012, collecting seven hits in 33 at bats. With Texas Tech this season, Burleson is batting .267 with 25 RBI. He has also walked 23 times, and has posted an on base percentage of .376.
West will be making his first appearance in the Northwoods League. He is a relief specialist with the San Francisco Diamond Dons, having appeared nine times, all in relief, in the 2013 season. West's 2.70 ERA is good for fourth best on the Diamond Dons' roster. He has a 0-1 record and has walked only one batter in 6.2 innings this eason.
The Bullfrogs' home opener is May 30 against the Wisconsin Woodchucks. First pitch is scheduled for 6:35 p.m. Individual and season ticket packages are still available.
Please call 920-497-7225 or log on to www.greenbaybullfrogs.com for more information.
The Bullfrogs are a part of the 16-team Northwoods League. The Northwoods League has more teams, plays more games, and draws more fans than any other Summer Collegiate League in North America.