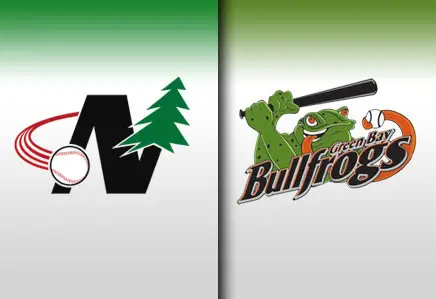 The Bullfrogs have signed three more players to the roster, none of whom have previous Northwoods League experience.
Pitchers Davis Ward (Ouachita Baptist Universtiy) and Matt Esparza (Tennessee) and Infielder Jack Parenty (Stony Brook) will play their summer baseball in Green Bay in the 2013 season.
Davis Ward is making his first appearance to the Northwoods League. Ward appeared in 14 games this past season, starting 13 of his 14 appearances. On the season he had an overall record of 9-3 with an ERA of 1.74. He was the ace of the Ouachita Baptist University Tigers and also named the Great American Conference Pitcher of the Year. Ward led the league in ERA, innings pitched, and complete games. In his 2012 stint with the Tigers, he appeared in 16 games starting 14 of them. Also having an ERA of 3.96 with 43 strikeouts and 14 walks.
Matt Esparza is also making his first appearance to the Northwoods League coming out of his freshman year from Tennessee. Esparza appeared in eight games this season, starting three of them. He made his collegiate debut in Las Vegas, starting the second game of Tennessee's doubleheader against UNLV on Feb. 16. Esparza had an ERA of 8.56 with three strikeouts and 11 walks. Esparza was 1-1 on the season taking on SEC teams such as Vanderbilt, Florida, and LSU.
Jack Parenty is also another freshman who will be making his Northwoods League debut this summer with the Bullfrogs. Parenty is a middle infielder who played both Second base and Shortstop for Stony Brook. Parenty was named America East Rookie of the week for the week of March 25th. On the season the young infielder hit .346 in 50 games, starting 46 of them. Parenty is expected to be a stud defensively as he has yet to commit an error on the season with Stony Brook.
The Bullfrogs' home opener is May 30 against the Wisconsin Woodchucks. First pitch is scheduled for 6:35 p.m. Individual and season ticket packages are still available.
Please call 920-497-7225 or log on to www.greenbaybullfrogs.com for more information.
The Bullfrogs are a part of the 16-team Northwoods League. The Northwoods League has more teams, plays more games, and draws more fans than any other Summer Collegiate League in North America.