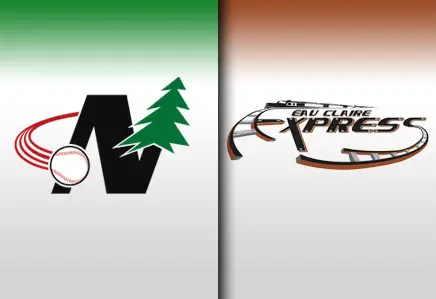 Paul Voelker's return plus the addition of temporary players fill up 2013 team
EAU CLAIRE, Wis. -Express Field Manager Dale Varsho announced today that right-handed pitcher Paul Voelker will don an Eau Claire uniform for another season. The Dallas Baptist University sophomore is the last addition on the Express full-time roster for the 2013 season.
Last year with the Express, Voelker appeared in 10 games and held an impressive 1.54 ERA. In 11.2 innings pitched, he struck out 16 batters while only giving up six walks and seven hits. He became the closer for the ballclub as he led the team with five saves. Varsho said he trusts Voelker to be on the mound in a save situation.
"Paul's got the great mentality of being the end of the game guy," Varsho said. "He's got a great fastball and a good curveball and he's in a position where he wants to be that guy. He's a great competitor and he's just got that mentality to close out games"
This season at Dallas Baptist, Voelker has pitched 38 innings for the Patriots while holding a 4.54 ERA. In a game against Cal State-Bakersfield on April 20, Voelker he struck out four and only allowed one earned run in 4.1 innings. The Plymouth, Minn., native played his last spring season at Des Moines Community College. He went to high school at Wayzata (Minn.) in the Twin Cities. At Wayzata, he was an all-league selection.
The Express also announced the rest of their temporary players for the season. Temporary players are allowed to play a minimum of 10 games or be on the club for a maximum of 30 calendar days.
Two of those players were also temporary players last season. Catcher Brian Sicher and outfielder Ryan Gerber played at Carson Park in 2012.
Sicher, who plays collegiately at the Air Force Academy in Colorado Springs, Colo., played in nine games last year and recorded five hits and six runs.
Gerber, a native of Bruce, Wis., and student athlete at St. Thomas, played in seven games last year and had three hits and one RBI. Varsho will have him pitch this season.
New to the ballclub this year are temporary field players Mike Porcaro, Alex La Shomb and catcher Brooks Bielke and pitchers Lance Thonvold, Alec Crawford and Will Kenny.
Porcaro is a local produce from Burlington, Wis. The infielder plays his college ball at UW-Milwaukee, where was just recently named the Horizon League Player of the Year for the Panthers. He is batting .362 at the top of the Panther lineup and has one home run and 39 RBIs.
La Shomb, Bielke, Thonvold and Crawford all play collegiately in Minneapolis at the University of Minnesota. They have all helped lead the Gophers to 30-20 record.
Kenny is a sophomore pitching for Iowa Central Community College. He helped lead his team to a 37-16 record.
With the addition of Voelker and the announcement of temporary players, the Express have no more players to add before the start of the season next Wednesday in Madison.
After a four game road trip that starts in Madison and ends in Battle Creek, the Express return home to play their Carson Park opener on Sunday, June 2. First pitch for that contest is set for 5:05 p.m.
The Northwoods League has more teams, plays in more games and draws more fans than any summer collegiate baseball team in North America.