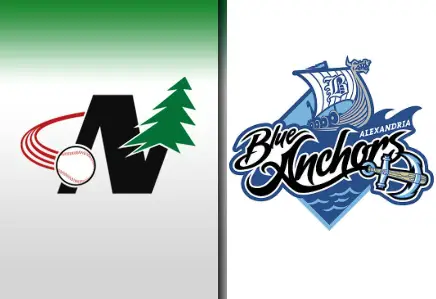 (Alexandria, MN) – The Alexandria Blue Anchors have completed their pitching staff signing 16 pitchers for the 2013 Northwoods Championship season.
"Pitching is what it's about," Alexandria Owner Adam Barta said. "As with any team, pitching and defense are the key to winning championships and that is what we are trying to in Alexandria. Winning brings fans to the park and it starts with pitching and defense. We are very excited to build our staff with some quality guys from around the country."
RHP Cam Mingo (Eden Prairie, MN/Princeton), RHP Andy Johnson (Wayzata, MN/Bradley U.), RHP Corey Fitzgerald (Edina, MN/St. Cloud St.), RHP Scott Sanderson (Flandreau, SD/St. Cloud St.), RHP Tyler Beck (Fairmont, MN/Augsburg) and RHP Ryan Mestnik (Prior Lake, MN/Augsburg) all hail from or are playing college baseball in Minnesota.
RHP Spencer Koopmans (San Jose, CA) is a 6'5" sophomore at UC Davis ranks 2nd on the team in innings pitched (70) and starts (13).
RHP Chase Rihtarchik (Lake Orion, MI/Michigan State U.) is a 6'4" redshirt junior who has been stingy this year only allowing 22 hits in 47.2 innings pitched while going 6-1.
RHP Ross Slaney (Mountain View, CA/San Jose St.) is 6'2" freshman was a two-year letter-winning pitcher at Homestead High in Cupertino, Calif…struck out 43 batters in 49.2 innings of work as a senior.
RHP Taylor Simpson (Cumming, GA/S. Georgia College is a 6'2" redshirt freshman has struck out over a batter per inning this spring (47Ks/40IP) while allowing only 39 hits.
RHP Zac Custer (Las Vegas, NV/DWU) is a 6'3" sophomore had 4.50 ERA this season going 2-2 while striking out 22 batters in 18 innings.
Two LHPs Michael McGee (University of Buffalo) and Tyson Walker (Abilene Christian, TX) are both 6'2" 180 lb sophomores who will serve as both situational relief and starting roles this summer.
Anchoring the back end of a hard-throwing bullpen are RHP Hunter Newman (LSU), RHP Jose Cardona (Cal State Fullerton) and LHP Brandon Johnson (FSU).
The Alexandria Blue Anchors open up their season on May 29th @ 7:05 pm when they face off with the Duluth Huskies.
The Northwoods League plays more games than, draws more fans than, and plays in venues superior to any Summer Collegiate Baseball League in North America. The 20th season of Northwoods League baseball will begin in May 29th when Alexandria will play at home vs. the Duluth Huskies @ 7:05pm.