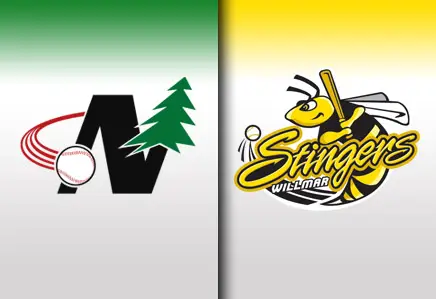 Latest additions set 2013 roster
WILLMAR, MN- The Willmar Stingers have announced the signing of 11 more players to the upcoming 2013 roster. With these latest additions, the roster is now set at 29 full-time players, plus seven temporary contracts. The 2013 season gets underway Wednesday, May 29 against the Thunder Bay Border Cats at 7:05 pm at Bill Taunton Stadium presented by Marcus Construction.
Joining the Stingers this summer will be:
Drew Jacobs – University of San Diego
Thus far in 2013, Jacobs as appeared in 20 games pitching 39 2/3 innings. Jacobs has a 2.95 ERA and a 1-1 record in 2013 for the Toreros.
Abe Bobb – University of San Francisco
Bobb compiled stellar numbers in first full season at USF in 2012 going 8-4 with a 2.18 ERA, a 66-to-12 strikeout-to-walk ratio.
Chris Kubitz – St. Cloud State University
During his sophomore season Kubitz made 15 appearances for the Huskies throwing 19 1/3 innings out of the bullpen and only allowing a .212 batting average against.
Tyler Hamer – Des Moines Area Community College
Hamer posted a 7-0 record in 2013 in 13 appearances (12 starts). Hamer had a 2.54 ERA in 63 2/3 innings pitched.
Tyler Leffler – Bradley University
Leffler hit .311 during his freshman campaign with the Braves in 44 games including 12 doubles and 24 RBI.
Andrew Crook – Meridian Community College
Crook appeared in 19 games as a freshman compiling 65 1/3 innings and a 4-1 overall record.
TJ Whidby – Central Arizona Community College
Whidby had 40 innings pitched in 2013, compiling a 2-1 record with 5 saves in 17 appearances.
JD Dorgan – University of St. Thomas
Dorgan hit .361 in 41 games this season for the Tommies. Dorgan had 40 RBIs and 7 home runs which were tied for the team lead. Dorgan returns for this second stint with the Stingers as he played in Willmar in 2012.
Nick Halamandaris – University of California-Berkeley
Halmandaris appeared in 30 games this season for the Bears and compiled 22 hits including a pair of doubles and pair of home runs.
Chris Barnett – Loyola Marymount University
Barnett played in 28 games (22 starts) this year for the Lions and amassed 18 hits.
Bret Dahlson – Loyola Marymount University
Dahlson appeared in 23 games out of the bullpen for the Lions this year. Dahlson had a 3.58 ERA in 27 2/3 innings pitched.
With these latest additions, the Stingers look to build off an exciting 2012 season where they earned a spot in the 2012 Northwoods League Playoffs. "All of these players will play an important role for us this season," Co-owner Ryan Voz said. "It will take every man on our roster playing at 100-percent to compete for a return trip to the post season in 2013."
The Stingers have lost two pitchers who were signed to contracts earlier in the off season due to pitching limits. Colton Thomson and Olen Little will not be joining the Stingers this summer because they have reached their innings limit set by their college coaches.
The 2013 Home Opener presented by Marcus Construction will feature former Minnesota Twin Greg Gagne and post-game fireworks. For more information regarding the Home Opener presented by Marcus Construction, visit www.willmarstingers.com or call 320-222-2010. Fans can purchase tickets for any game by visiting the Stingers website or by calling the Ticket Office. The 2013 season is presented by Charter.