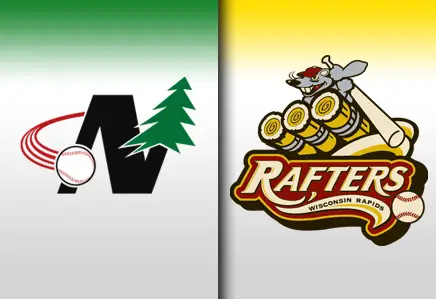 Texas Tech RHP, Marian College LHP to join pitching staff
Wisconsin Rapids, WI-Monday, May 27th. The Rafters have added a pair of pitchers as well as announced today that they have added seven temporary contract players to the roster in anticipation of Opening Day on Wednesday.
RHP-Nick Pettus, 5'11", 180 lbs (R/R) Sophomore, Texas Tech
Nick Pettus recently completed his second season at Seminole State College. In 35.1 innings pitched, he recorded 43 strikeouts while carrying a 1.53 ERA. He only walked six hitters in 27 appearances. Pettus has signed with Texas Tech where he will continue his baseball career in the fall.
Pettus was ranked one of the top 500 players in the nation by Perfect Game scouting service, coming out of Broken Arrow High School. He is a native of Broken Arrow, Oklahoma.
LHP-Brandon Winfield, 6'1", 210 lbs (L/L) Junior, Marian University
Winfield recently completed another successful season for Marian University in Fond du Lac, Wisconsin. This spring he posted a sparkling 1.89 ERA in 52.1 innings, while walking only 13 batters and striking out 42. As a sophomore he posted a 2-0 record with a 1.34 ERA in 18 relief appearances and saved four games.
Winfield lettered in baseball and basketball at Ripon High School while also playing on two American Legion State Championship teams. He is a native of Ripon, Wisconsin.
Players Singed to Temporary Contracts:
IF-Michael Herman, 6'0", 200 lbs (R/R) Redshirt Sophomore, Wayne State College
LHP-Forrest Herrmann, 5'10", 185 lbs (R/L) Sophomore, Evansville
LHP-Nick Maiers, 6'0", 190 lbs (R/L) Junior, St. Cloud State
OF-Derek Peake, 6'0", 185 lbs (L/R) Redshirt Sophomore, UW-Milwaukee
IF-Riley Spetz, 6'0", 185 lbs (R/R) Sophomore, UW-Stevens Point
RHP-Brad Stroik, 6'4", 210 (R/R) Junior, UW-Stevens Point
RHP-Greg Taylor, 6'4", 230 (R/R) Junior, University of Pittsburgh at Bradford
The Wisconsin Rapids Rafters are members of the 16-team summer collegiate Northwoods League. The Northwoods League has more teams, plays more games, and draws more fans than any other Summer Collegiate League in North America.

In 2013 the Northwoods League will celebrate its 20th season. Opening Day at historic Witter Field is scheduled for Wednesday, May 29th at 7:05 pm against the Lakeshore Chinooks. Reserve your 2013 ticket packages today by calling 715-424-5400, or in person by stopping by the Rafters office at Witter Field. Available quantities of all promotional giveaways will vary from event to event and will be available on a first come, first serve basis. The best way to guarantee giveaway items is to purchase a 9-Game Package. The offseason office hours are Monday through Friday from 9am-5pm. For more information, visit www.raftersbaseball.com.