Frye Tosses Complete Game Shutout
August 3, 2013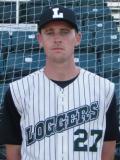 Madison, WI (August 3rd, 2013)–The La Crosse Loggers needed a win to keep pace in the South Division standings on Saturday, and they got one in a win over Madison. Josh Frye (Long Beach State) went the distance as he shut out the Mallards.
Frye only gave up two hits and walked two batters in the performance while picking up the win. He was able to strike out seven batters as he had the Mallards off balance all night. The performance helped him notch his fifth win on the season.
The Loggers will host the Lakeshore Chinooks on Sunday at 5:05 in a key South Division showdown.