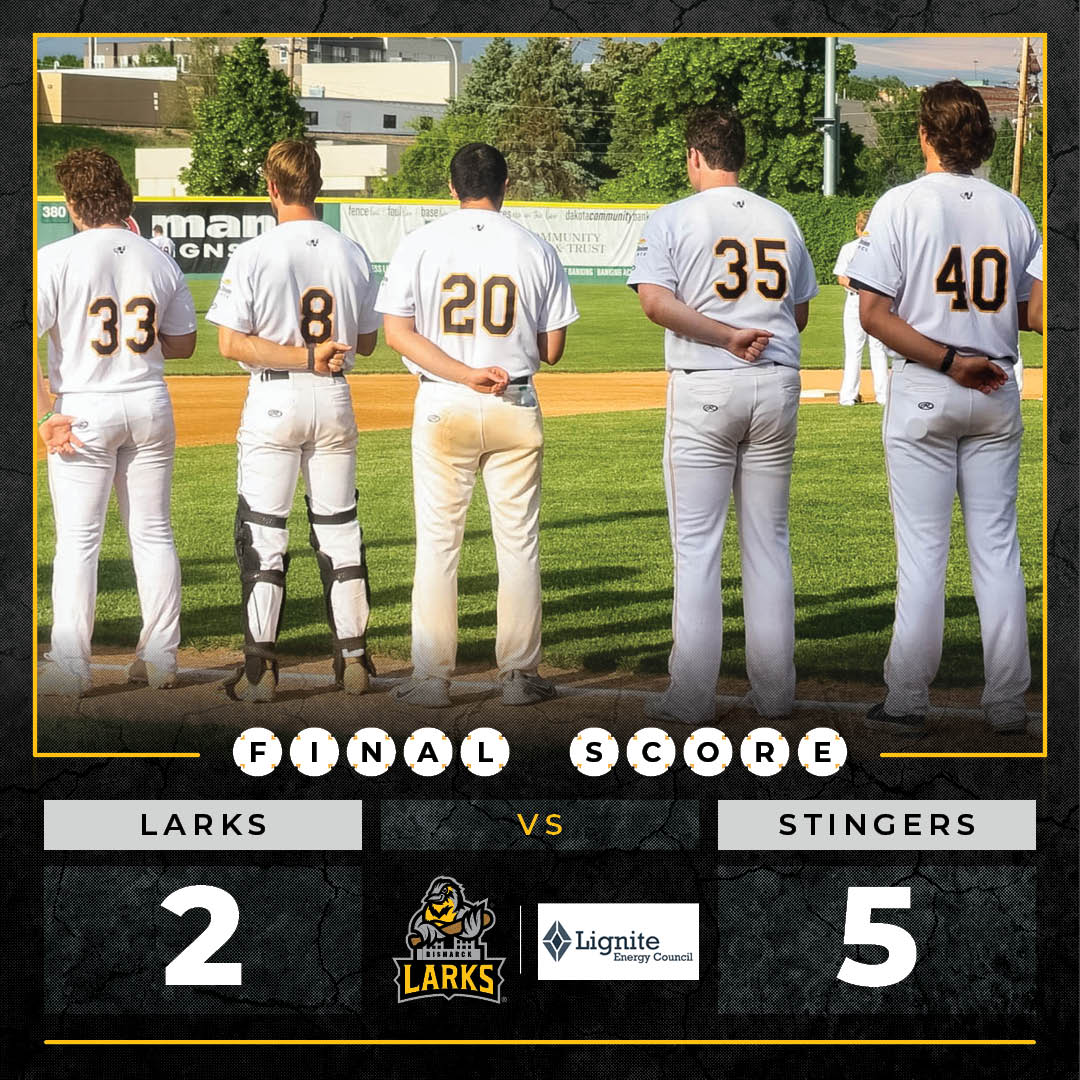 After dropping the finale of a two-game set last night, the Bismarck Larks were defeated by the Willmar Stingers in the final series of a six-game homestand to open the season. Despite the Larks collecting more hits than their Great Plains West rivals, they could only push a couple across in the seventh and eighth. It was far too late by then, as the final score was 5-2.
The Stingers started their scoring in the second, with catcher Zach Stroh (Minnesota State Mankato) hitting a two-RBI single with two outs, scoring Aidan Byrne (Minnesota State Mankato) and Luke Williams (Alabama) to put Willmar on top. 
Willmar got back on the board in the fourth when former Lark, Jake Hjelle (Minnesota – Crookston), scored on a wild pitch, making it 3-0. Then, in the seventh, a Kyle Payne (Northwest Nazarene) two-run home run served as the icing on the cake for the offense, making it five runs for the Stingers.
The Larks did score once in the seventh on a sacrifice fly from Nick Johnstone (South Suburban CC) and once again in the eighth thanks to a Dylan Perry (Monmouth) RBI single. However, a ninth-inning rally fell short, as Bismarck left two runners on.
On the bump, Willmar's Starter, Ray Cebulski (Point Loma Nazarene), threw a gem, going five complete innings while not allowing a run or a walk and striking out seven. He earned the win in his first start of the summer, while Sean Hamilton (Hofstra) was given the loss for Bismarck. Ben Irsfeld (Minnesota State) collected a save in his first appearance on the mound through two innings of work. 
For the Larks in relief, Jonny Lowe (Tyler JC) went five innings and threw the Metro Area Fastest Pitch of the Game at 94 mph. As for the Fetzer Electric Play of the Game, it came during the very first at-bat of the game, when Kai Hori (New Orleans) made another web gem in the field, diving to his left in shallow right field and robbing Stone Miayo (Hawai'i) of a leadoff hit.
The Larks will host the Stingers again tomorrow for the final matchup of the two-game series. It's the last of a six-game homestand to start the season before the team goes on a four-game road trip. First pitch is slated for 6:35 p.m. CT. tomorrow is also Stem Night at the ballpark, which is presented by MDU Resources and North Dakota's Gateway to Science. Science, technology, engineering, and math are all roped into one amazing night at the ballpark! Join us for our FREE STEM Expo before the game (10 a.m. to 1 p.m.) with interactive booths from local vendors around the ballpark.